Trips I (Currently) Have Planned for 2020
Since it's the beginning of the year, and since I have planned a fair amount of travel for 2020, I thought it would be fun to write a travel blog about what that's like, especially since my friends and family do not want to hear me talk about airfare or airplanes any more.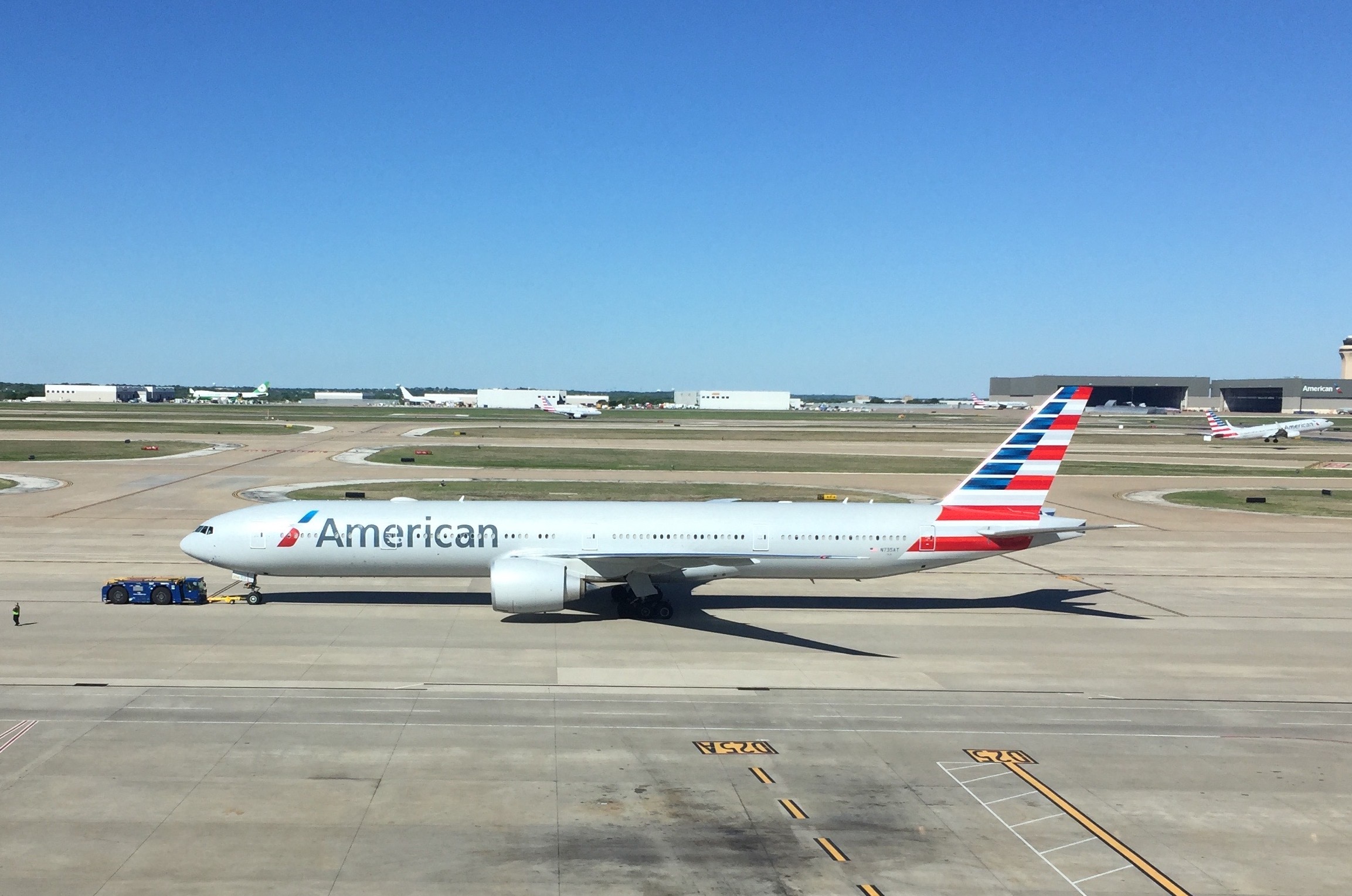 An American Airlines 777-300
Paris in the Winter
The first trip that I have planned is Paris in January with my family. They are excited to see an exhibition of Da Vinci drawings that is now sold out; I am excited to see the Louvre, the Musée d'Orsay, and possibly the Rhodin museum with less foot traffic than normal. The last time I was in Paris (before I was particularly good at figuring out travel), I took the TGV from Geneva for the day and was only there for about ten hours; I saw most of the Louvre, enjoyed walking some of the Viaduc des Arts, and had a croissant in a French cafe, but my feet were not working by the end of the day.
Flight Route, Boston to Paris and Return. Strange how almost all major cities in the northeast are in a straight line on a great circle map.
Although there are several non-stop flight options between Boston and Paris on Delta and Air France in the winter, I found a good deal via JFK and Philadelphia. Specifically, we are flying:
Boston (BOS) to New York JFK (JFK) – American Airlines Airbus A321T
New York JFK (JFK) to Paris Charles de Gaulle (CDG) – American Airlines Boeing 777-200
Paris Charles de Gaulle (CDG) to Philadelphia (PHL) – American Airlines Airbus A330-200
Philadelphia (PHL) to Boston (BOS) – American Airlines Embraer 175
It's only a moderate amount of backtracking in the US, and it seems worth it to be able to sleep on the way over. I also love that you can fly from Boston to JFK in a lie-flat seat on the A321T – I feel like a movie star!
The 10,000 Tori Gates on Mt. Inari
Taipei and Japan (in the Winter)
Once we get back from Paris, I'll have a week at home and then get on a plane to New York, where I get on a plane at 6 AM the next morning.
Flight Route, Boston to Taiwan, Japan, and Return
This is not the most straightforward routing, but it was one that I found interesting. Interestingly enough, the outbound routing to Kyoto via Los Angeles is only 800 miles shorter than flying via Helsinki, which I did in 2018. To get there, first I take a quick flight down to New York:
Boston (BOS) to New York JFK (JFK) – American Airlines Airbus A321T
I'll stay overnight in New York. I am going to try to see a few things: I got (free) tickets to see The Late Show with Stephen Colbert tape and I will probably try to get tickets to Mean Girls. I'm in the mood for something upbeat, so I'm going for theatre over museums.
New York JFK (JFK) to Los Angeles (LAX) – American Airlines Airbus A321T
Los Angeles (LAX) to Osaka Kansai (KIX) – Japan Airlines Boeing 787-9
Osaka Kansai (KIX) to Taipei Taoyuan (TPE) – Japan Airlines Boeing 737-800
Once I'm in Taiwan, I'm going to meet up with a friend from college that lives there now, and we are going to Japan, since he has never been and in Taiwan most people travel for the lunar new year. I initially booked flights on China Airlines without realizing that even though the flights were five days apart, the flight out lands in the evening and the flight back takes off in the morning, giving us only 3 days on the ground in Japan. Luckily, we had tickets with a low cancellation fee, so I cancelled them and booked us tickets on Cathay Pacific's fifth freedom flight to Nagoya.
Taipei Taoyuan (TPE) to Nagoya Chubu Centrair (NGO) – Cathay Pacific Airbus A350
Nagoya Chubu Centrair (NGO) to Taipei Taoyuan (TPE) – Cathay Pacific Airbus A350
After a week in Japan, my friend and I fly back to Taipei where I stay a night and then get on a plane back to Boston:
Taipei Taoyuan (TPE) to Tokyo Narita (NRT) – Japan Airlines Boeing 737-800
Tokyo Narita (NRT) to Boston (BOS) – Japan Airlines Boeing 787-9
I am quite excited to be taking JL 8, the flight that proved that Boston to Asia routes are viable. After I get back to Boston, I'll be flying down to New York again to make the routing legal. Although this was a good fare to Asia, I did make a few mistakes in planning, which I will address in another blog post.
I expect activities in Taipei will mostly be lunar New Year celebrations and night markets, and in Japan we will see the sights around Nagoya, Kyoto, and Osaka. Winter weather in Taipei should be about 70°F and in southern Japan should be around 50°F, which beats Boston.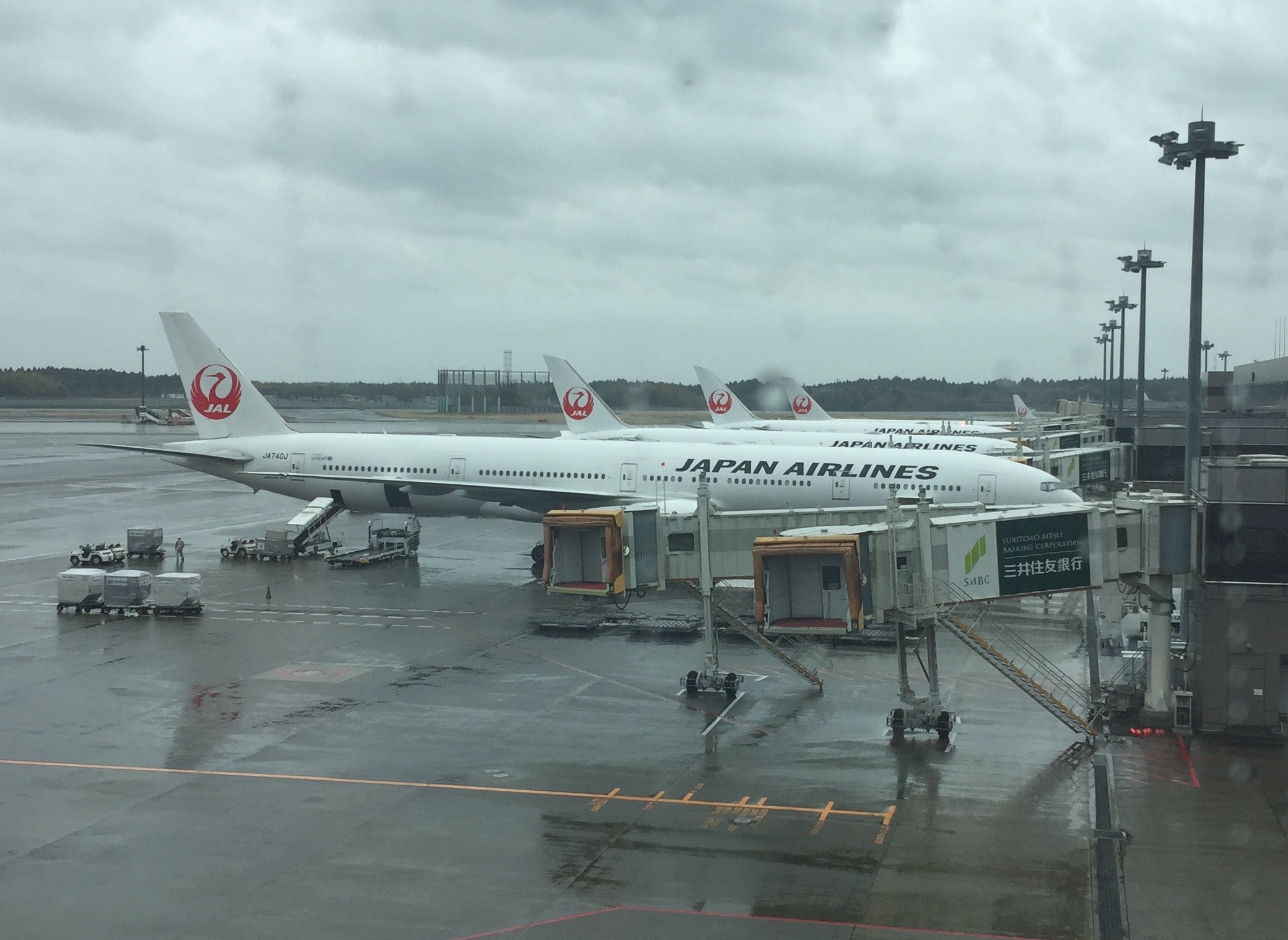 A Japan Airlines 777-300
Japan Again on Miles
This is the trip that I have been waiting for! Not because I'm going to Japan with another friend, but because I've spent so much time learning about frequent flyer programs and credit card programs and the rules for transfering and redeeming miles and I finally get to use my miles for something! It is in August too, so it should be quite warm.
Flight Route, Boston to Japan and Return
Initially when planning this trip, I found and booked award seats to Los Angeles on American and then to Tokyo on Japan Airlines – sign me up for a hot fudge sundae and airplane curry (but not at the same time…)! However, about 2 weeks after I booked, JAL opened up two award seats in First via Chicago. This was great since:
American's award chart charges a 20,000 mile premium for First over Business from the US to Japan, which I thought was worth it for the novelty of flying international First Class.
American allows free changes on award tickets if you preserve the same origin, destination, and airlines on the award.
This itinerary is faster overall, involves a much shorter domestic segment, and leaves Boston at 8:00 AM instead of 6:30 AM.
So that's the story of how I sacrified my American Airlines hot fudge sundae to fly JAL First 😉.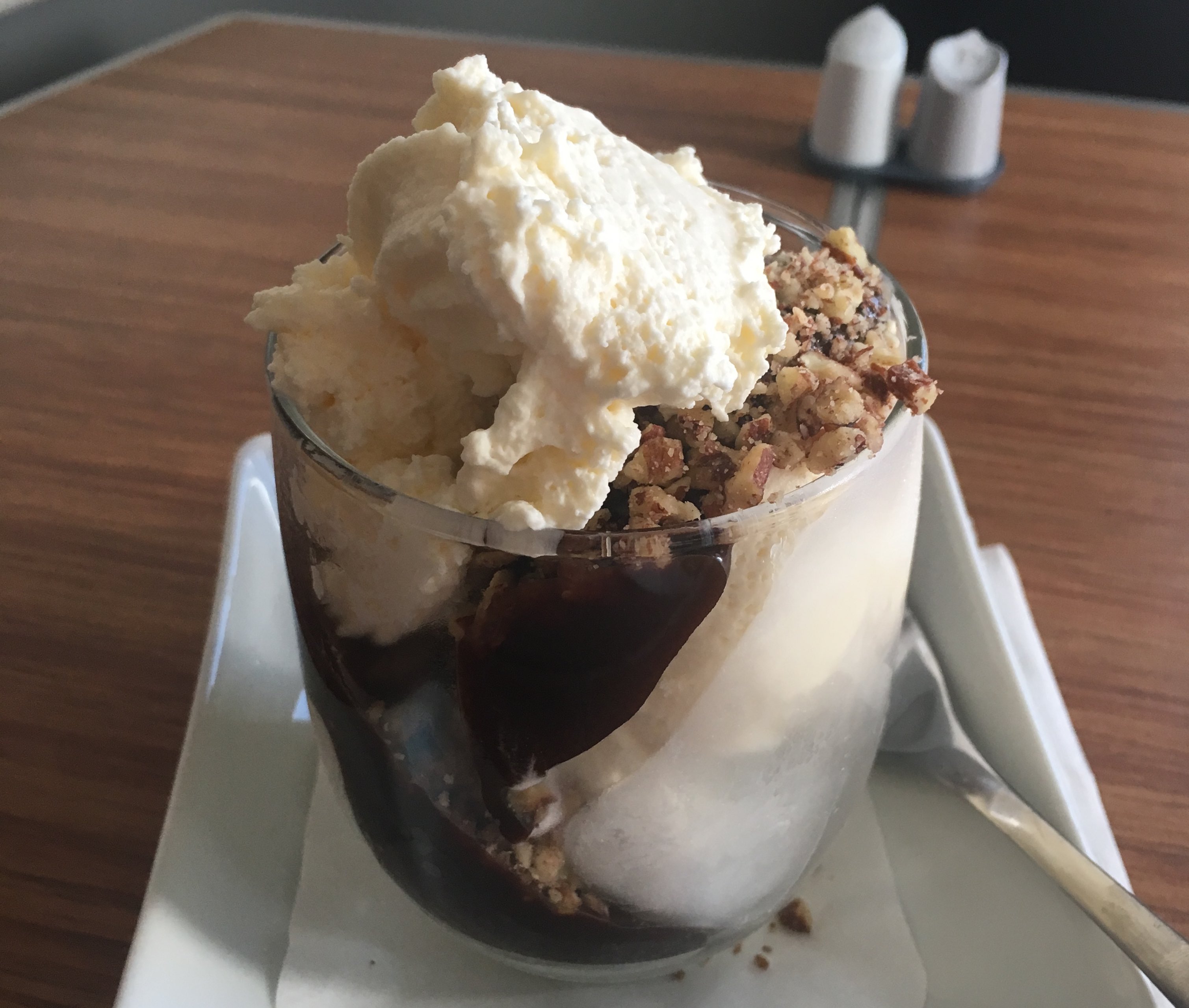 A hot fudge sundae I had on a previous flight.
For the return, my attraction to obscure flights showed up again, but this time it is an advantage. It seems like there are always a ton of business class award seats on Delta's Nagoya to Detroit flight, and I was able to grab two of them and take advantage of an American Express transfer bonus to Virgin Atlantic. From Detroit, I will buy a cheap economy flight back to Providence, where my friend lives and is about the same distance from my house as Logan.
Boston (BOS) to Chicago O'Hare (ORD) – American Airlines Airbus A321
Chicago O'Hare (ORD) to Tokyo Haneda (HND) – Japan Airlines Boeing 777-300
Nagoya Chubu Centrair (NGO) to Detroit (DTW) – Delta Airbus A330-200
Detroit (DTW) to Providence (PVD) – Delta Airbus A320
I expect that attractions will include conveyor belt sushi, goshuin books, onsen, climbing Mt. Inari, and hopefully seeing a part of Japan that I haven't seen before such as Hokkaido, since this will be my fifth trip to Japan. My friend's family is from Hiroshima, so he is especially interested in going there.
Bonus: Another Trip I Want to Take
On my last trip to Europe, I went to London, Vienna, and Prague, and I found that I enjoyed Vienna a bit more than Prague. However, I would like to see a bit more of eastern Europe, especially some of the Baltic states (Latvia, Lithuania, Estonia, and Finland are on my list) and possibly Poland.
If I manage to set it up, I would also like to take the first flight from Boston to London on an American Airlines plane – they are going to start flying a 777-200 from Boston to London every day starting on 29 March 2020. They flew the route in the past, so I'm not sure it is a proper innaugural flight, but it would be cool to get a water cannon salute.
I would like to find some routing that starts in central Europe such as Poland and ends in Helsinki, but it seems that passenger rail service is limited in the Baltics, and I'm not sure I want to spend too much of the trip on a bus. However, this trip is still in the planning stage, and I'm probably going to put it aside until I am done with the travel i have planned for January at least.