A More Optimal Round-the-World Trip
Earlier I wrote about a potential round-the-world trip to see springtime events in Asia and Europe, and I noted that using 165,000 Cathay Pacific miles to book my original itinerary was a good deal.
Well move over Cathay Pacific, because there's an even better deal. I won't bury the lede: All Nippon Airways (ANA) has fantastic Star Alliance round the world award prices, with a few caveats.
The Price
ANA's award chart for a round the world award is as follows: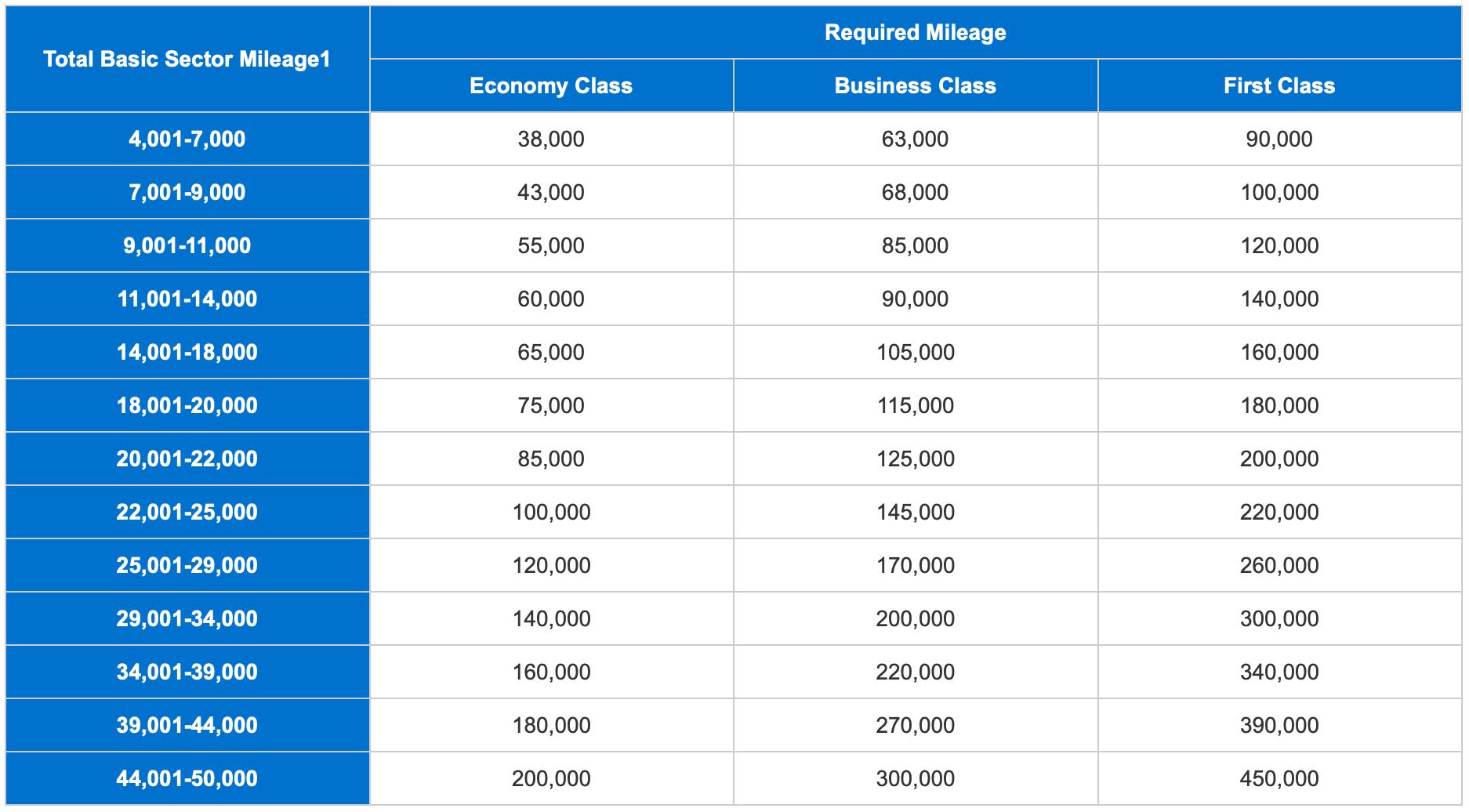 These awards price based on total distance flown, not including ground sectors. For an itinerary similar to the one I wrote about yesterday, you are probably looking at the 14,000 to 18,000 mile band, which prices at 105,000 miles in business class, or the 18,000 to 20,000 mile band, which prices at 115,000 miles in business class. There are a few more routing rules:
You must fly Star Alliance airlines, not any other ANA partner airlines that you could normally redeem miles for.
You must cross both the Atlantic and Pacific oceans.
You must fly east-west or west-east, without backtracking.
Up to 8 stopovers are allowed; of those a maximum of 4 can be in Europe and a maximum of 3 can be in Japan.
A maximum of 12 flight segments and 4 ground segments are allowed on one ticket. Transfers between different airports in the same city (e.g. taking the train from NRT to HND) count as a ground segment.
The trip must be at least 10 days.
ANA also requires at least two degrees of kinship when booking an award for someone else; unfortunately they do not have the same wonderfully complex chart that Japan Airlines has:

Japan Airlines provides a chart illustrating two degrees of kinship.
If you are planning on using transferrable points to book this award, note that you might be able to bypass this restriction if you trust a friend with a credit card – American Express allows you to transfer points to the frequent flyer accounts of authorized users on your cards, for example.
Lastly, note that some Star Alliance airlines limit award availability to partner airlines. Most notably, you can only book Singapore Airlines business class through Singapore's own frequent flyer program or Alaska Airlines' program, but not any other Star Alliance program.
My Route
Like oneworld route that I outlined yesterday, I find a diversity of airlines interesting. Unfortunately, there is not a direct flight from Boston to Asia on any Star Alliance airline, however there are many more direct flight options to Zürich on Swiss, so it is about a wash.
Boston (BOS) to Chicago O'Hare (ORD) — United
Chicago O'Hare (ORD) to Tokyo Haneda (HND) — United or ANA
Tokyo Haneda (HND) to Seoul Incheon (ICN) — ANA or Asiana
Seoul Inceon (ICN) to Taipei Taoyuan (TPE) — Asiana or EVA Air
Taipei Taoyuan (TPE) to Bangkok (BKK) — EVA Air or Thai Airways
Bangkok (BKK) to Vienna (VIE) — EVA Air
Vienna (VIE) to Zürich (ZRH) — Austrian Airlines or Swiss Air Lines
Zürich (ZRH) to Boston (BOS) — Swiss Air Lines
I resisted the urge to stick Ethiopian Airlines' flight from Tokyo to Seoul in there, no matter how cool I think it is, given I'd be traveling with friends. However, I did put in a fifth freedom flight from Bangkok to Vienna on EVA Air. There are a ton of Star Alliance options for jetting around Asia.
This routing is 19,756 miles, per gcmap.com, so it would actually cost 115,000 miles in business class. It would be possible to get it under 18,000 miles by cutting out a few stops, but the 10,000 miles extra seemed worth it.
Bottom Line
If you can find award availability on all of the segments you want, you can piece together a great round-the-world trip at a great price, especially given that you can transfer American Express points to ANA. There is also a ton of value in the number of free stopovers that you get. I probably will not use this option to book my next trip, but it's a good one to have for future reference.