I Booked a Round-the-World Award!
I've been writing about it since before COVID, but now I've finally done it: I've actually booked a round-the-world award ticket. In April 2022, I'll leave Boston and never stop flying west until I get back to Boston.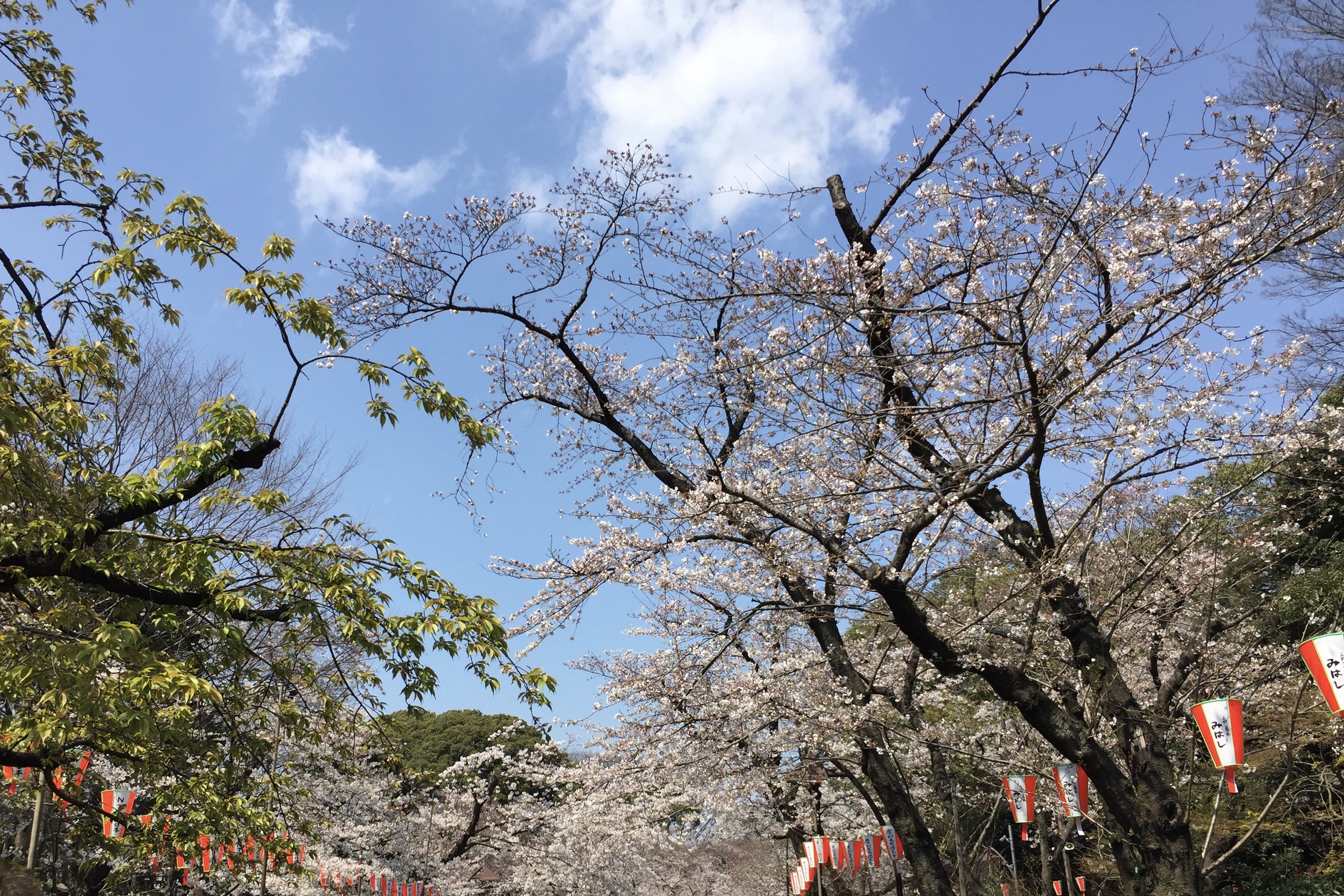 Cherry Blossoms in Ueno Park, Tokyo
The Routing
Award availability to Asia and Europe in April was sparse but I was able to make something work. There seemed to be absolutely no transpacific Star Alliance award availability in early April, which pretty effectively eliminated the ANA round-the-world award as an option. There did seem to be a decent number of Japan Airlines business awards available, so oneworld seemed like the way to go (n.b. the only SkyTeam airline that offers a semi-attractive round-the-world award chart is AeroMexico and I use the adjective "semi-attractive" for a reason). The routing we ended up taking looks like this:
Boston (BOS) to New York – Kennedy (JFK) — American Airlines, A321T (First)

New York – Kennedy (JFK) to Tokyo – Haneda (HND) — Japan Airlines, 777-300ER (Business)

8 days in Japan

Tokyo – Haneda (HND) to Helsinki (HEL) — Japan Airlines, 787-9 (Business)

Helsinki (HEL) to Zürich (ZRH) — Finnair, A321 (Business)

7 days in Switzerland and Italy

Rome (FCO) to London – Heathrow (LHR) — British Airways, A319 (Business)

An night in London

London – Heathrow (LHR) to Boston (BOS) — American Airlines, 777-200ER (Business)
It is a really quick trip, but I think it will be a fun experience and there's no risk of getting bored. Award availability dictated our routing; I would have appreciated flying Finnair long haul again, but they seem not to release award seats to partner airlines more than 60 days from departure. Similarly, I could not find award availability on the Cathay Pacific nonstop from Hong Kong to Zürich. oneworld is a weak airline alliance for flying within continental Europe, so I set up Zürich to Rome as an open jaw and will buy a cheap economy ticket with cash for that segment.
The overnight in London is functional: British Airways imposes insane fuel surcharges on the award flights that they operate, so it was dramatically preferable to fly American Airlines on the London to Boston segment. However, no flight left early enough from Rome to connect to the one AA flight per day. Staying in London overnight allows us to take that flight, and the fact that the transatlantic flight departs less than 24 hours after our flight from Rome arrives means that it gets ticketed as a transit instead of as a stopover, which avoids the £180 per person UK Air Passenger Duty for tickets in premium cabins. I'll have a good time just sitting in a pub in London, which seems worth the cost of the hotel and £11 of Heathrow Express tickets per person (you can buy Heathrow Express tickets for £5.50 each way if you purchase them more than 90 days out, which is cost-competitive with the tube and less than the TFL Rail).
The Asia Miles oneworld Multi-Carrier Award
I booked this through Asia Miles, the frequent flyer program of Cathay Pacific. The award is officially called a "oneworld Multi-Carrier Award", and the number of miles the award costs is based on how many miles you fly. In this case, I was flying 17,103 mi in business class, so according to the award chart that Cathay Pacific publishes for this type of award, it cost 155,000 Asia Miles per person, which was exactly how much I was charged.
There are some routing rules, which are more onerous than you might expect if you are not solely looking to take non-stop flights to oneworld hubs. Specifically, you are allowed:
Five stopovers
Two open jaws
Two transits (less than 24 hours)
The two transit limitation is significant: Americans may be used to having to connect through a hub for a lot of flying, but you can only do that twice on a round the world itinerary by these rules. In fact, when I booked this award, the agent told me that I could not book the award since I had three transits: one in New York, one in Helsinki, and one in London! Luckily, I had read about this: it seems that you can ask for what is normally a transit to be ticketed as one of your stopovers. I asked the agent to change the JFK transit as a stopover, he warned me that it may change the tax calculation, but was able to ticket it. I also knew that most domestic itineraries and itineraries leaving the United States had minimal (about $6) taxes, which is why I chose New York over Helsinki or London.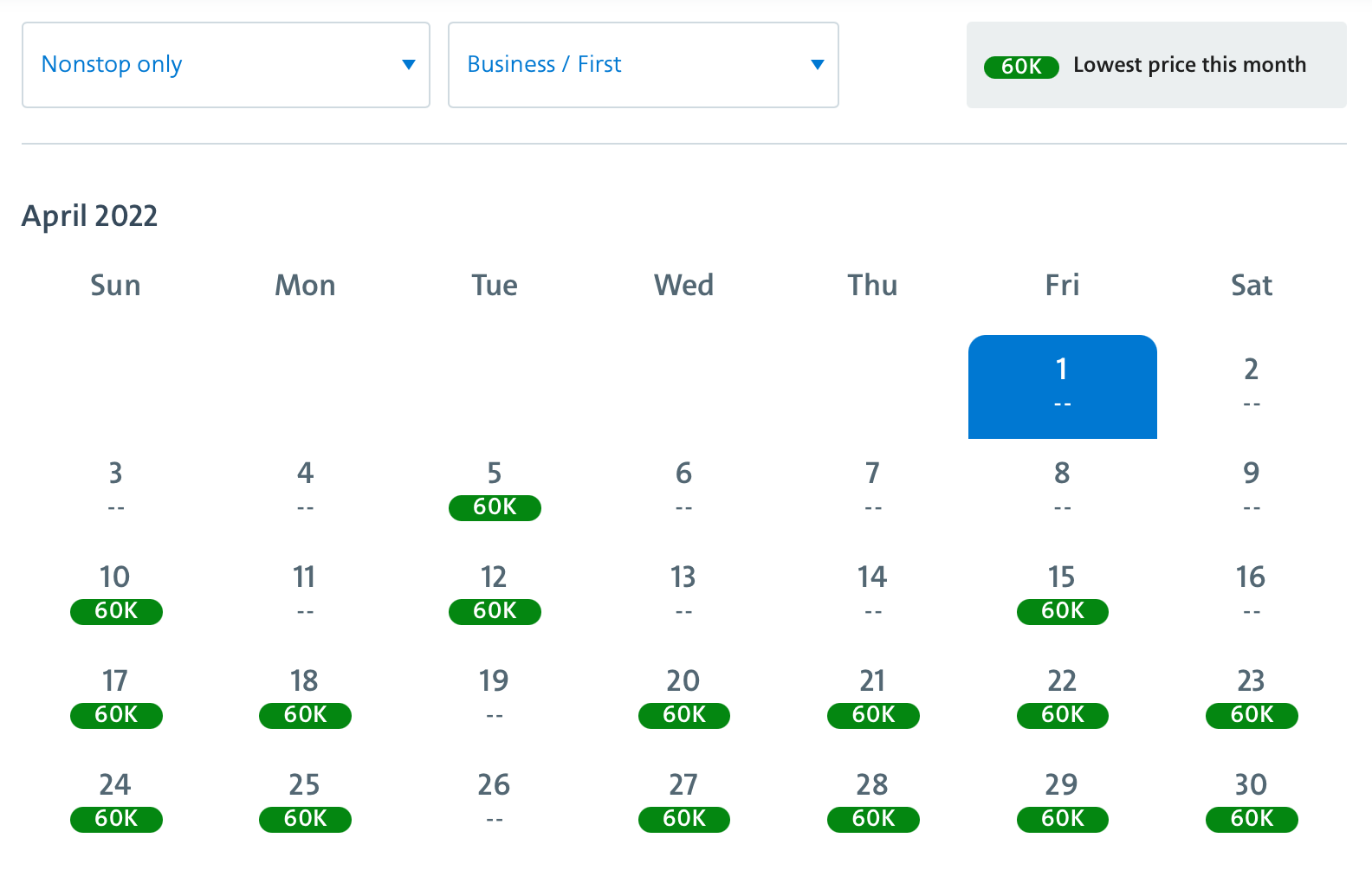 Searching for Business Award Availability on Japan Airlines BOS-NRT in April 2022 using aa.com
It's worth mentioning as well that you have to find award availability, which can be tough. I used the Cathay Pacific website to search when I could, but I found that the award calendar on the American Airlines website has a calendar with good filter options (business class, non-stop, and specific airlines) and the British Airways website was good for a "yes/no" answer on whether there actually was award availability. In my experience, it's worth searching segment-by-segment; the routing through Helsinki did not show up when I searched for Tokyo to Zürich, but I found the availability on each segment.
The Booking Experience
Transfering Points
I transferred American Express Membership Rewards points to Asia Miles to book this award. My research on the internet said that Cathay Pacific might be willing to place an award on hold before you transfer the points, but space on other airlines is not guaranteed while an award is on hold. Since I figured I would make this trip work in one way or another, I transferred the points ahead of time. American Express said that the transfer process could take up to 48 hours, but in this case the points transferred instantly.
Talking to Asia Miles
I first tried to book the award on the Asia Miles website, but the website cannot book itineraries with more than four cities (what?). Additionally, Cathay can only book Alaska Airlines, British Airways, Qantas, and Qatar Airways partner awards online, which is an odd combination. With some apprehension, I got ready to call the Asia Miles call center, but then I noticed a "Chat" button in the bottom right corner of my browser window. I thought, "this is complicated, and even if they are set up to do it, the chat agent is just going to tell me to call the call center since they won't be able to process the tax payment at the end." However, I figured I'd give it a try.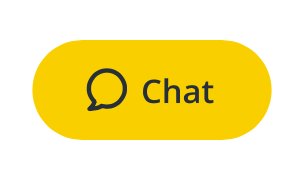 Praise the Chat Button!
It turns out Anthony the chat agent was amazing. It took about an hour, but he was able to see all of the award space that I had seen on aa.com and ba.com. I just gave him the flight numbers and dates and, aside from having to change JFK from a transit to a stopover, he came back and said everything was set. He told me I'd get an email with a link to pay the taxes (and what fuel surcharges Cathay passes on), I had 24 hours to pay, and once I did that, they would issue tickets. I got the email in about 20 minutes and the tickets were issued about 5 minutes once I had paid.
The award ticket ended up costing 155,000 Asia Miles and $481 per person. The breakdown of the taxes and fees shows $291 of fuel surcharges, so it is worth being aware that Asia Miles passes on some fuel surcharges. It seems the bulk of the fuel surcharge is a £200 surcharge for the American Airlines flight; it actually seems possible that we could have flown BA home for the same price.
Buying the Zürich to Rome flight separately on Swiss cost $130 per person.
Passports and Seat Assignments
Once the flights ticketed, I used the record locator from Cathay Pacific to go add our passport numbers, as well as add my AAdvantage number to the booking. Since I have American Airlines elite status, this allows me to select seats on the intra-Europe British Airways flight without having to pay. Shame on BA for charging for seat assignments in business class.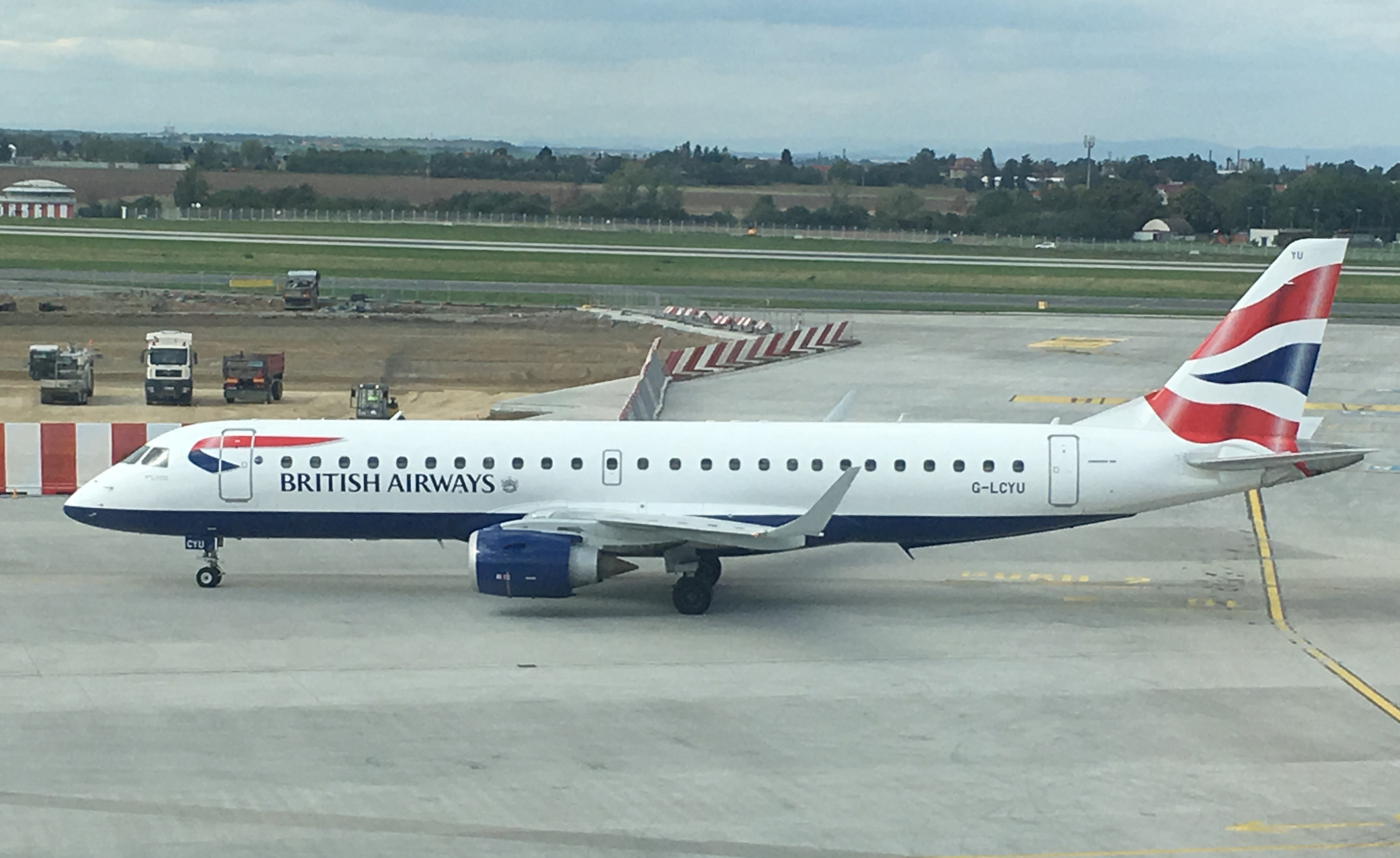 Shame! Bad airline!
Cathay Pacific's website did not support changing the frequent flyer number on a booking that did not contain any segments operated by Cathay Pacific, but I managed to put the record locator into Royal Jordanian's website and change the frequent flyer numbers. Once I had done that, I put the record locator into the American Airlines, Japan Airlines, Finnair, and British Airways websites and was able to choose seats on all of the flights.
The Bottom Line
I finally booked it! This is going to be a great trip. Even booked with miles, it's not cheap, requiring a $600 per person cash outlay in addition to the value of the frequent flyer miles. However, since miles tend to be devalued, it seems much better to sieze the day and use the miles rather than hoard them for the perfect redemption (e.g. the 105,000 mile per person Star Alliance round the world trip). Plus, you never know when the next plague will hit and stop all international travel.